Red & White Pears Khaki Peter Pan Scoop Neck Vintage Dress
|
Feel as delicious as a honeyed pear dessert in this spicy dress! Smothered in luscious juicy, red and white pears set on a khaki backdrop, it is frivolous and bold, fun and playful all in one. You are sure to make a statement wherever you go.
Styled in a classic 50's era look, our vintage-inspired dress offers a lovely scoop Peter Pan neckline with a soft collar, ideal to show off a beautiful red ruby set in sterling silver. Small cap sleeves frame the bodice and showcase long bare arms that call for layers of silver bangles. The skirt falls to below the knee with soft pleats that swirl and twirl as you move.
Accentuate your waistline with a deep red belt from our accessories collection. Wear bold red peep toe heels and slip your glitter ruby red lipstick into one of the pockets and your mobile phone into the other. Tiny ruby earrings will finish off the look.
100% Cotton, with cotton lining
These dresses have no stretch so the sizing is a little larger in all dimensions
BELT NOT INCLUDED - Please see our belt range.
Customer Reviews
Write a Review
Ask a Question
Love it!
I love this dress. Easy to wear, beautifully made, flattering, cute print (my toddler loves counting the pears ). I've also had lots of compliments when I wear it. I purchased the burgundy belt to go with it - perfect!
31/01/2018
Number 9 Fashion
Thank you Lisa! I think you can also get away with white and dark teal and wine red belts too. :-)
Fun and festive!
Ordered on Sunday afternoon and received in Tasmania Tuesday morning - fantastic service! The dress is beautifully made, the lightweight cotton is cool to wear and the full swishes and swirls around when moving. The collar is really cute. I love it and can't wait to buy some more dresses from Number 9 Fashion!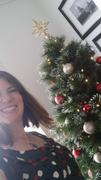 29/11/2017
Number 9 Fashion
Thank you Clare. We don't always get every order on every day out in time for the quickest delivery. But we always try our best too. With some changes happening in the next 2-3 months we hope we can offer next day delivery to everyone, everytime, everyday.